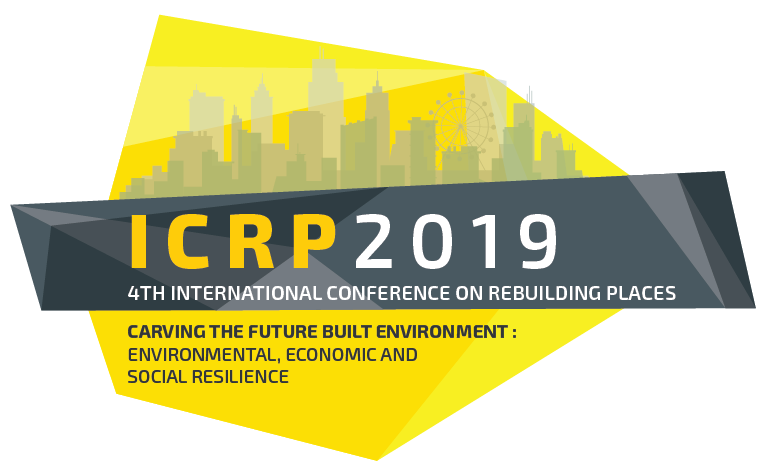 This is a significant event to be held in the exotic island of Penang, Malaysia, on the 6-7th November 2019, as an international platform bringing together innovative minds of academicians, researchers, architects, engineers, planners, economists, social scientist, policy makers, industrial experts, and budding students around the globe to a common forum to share and disseminate their latest research on topics linked to rebuilding places and current interrelated issues.
The theme entitled 'Carving the Future Built Environment: Environmental, Economic and Social Resilience' focuses on the core pillars of sustainability to be safeguarded in the onslaught of global warming and climate change threats causing rampant hazards of floods, storms, droughts and typhoons over the recent decade. This phenomenon is predicted to escalate in the future, where the increasing severity of these disasters will subsequently result in large number of displaced people and refugees. As the world population is estimated to reach 9 billion by 2050, the increase of urban inhabitants struggling for shelter and amenities, the aftermath of disasters on the environment, social and economic stability and growth are urgent issues to be tackled to reduce losses especially in the poorest, most vulnerable communities within developing countries. In carving a better future built environment, the key issue is to offer more resilient solutions for communities and cities to encounter and surpass a colossal disaster with holistic revival approach and regeneration strategies from all dimensions from the physical, social, scientific and political aspects.
The key objective of ICRP 2019 is to offer opportunity for the international participants to share their experiences, ideas, and expertise with the counterparts in other parts of the world as well as offer opportunity for international networking and linkages for future collaborations in research and state-of-the-art solutions that will lead to massive results for the benefit and survival of mother earth. Our intention is that the ICRP outcome will lead to significant contributions to the body of knowledge towards a better built environment.
This Conference is co-organised by the Universiti Teknologi Mara (Malaysia), Universitas Syiah Kuala (Indonesia), and Chulalongkorn University (Thailand). The Best Paper Awards will be given for the papers judged to make the most significant contribution to the conference.
See you soon in the Pearl of the Orient!